Soundzipper Acoustic Consultants : Adrian Lo | Julian Martinez | Liji Mohan | Johann Tan | Gerald Khor
Soundzipper Project Manager :  Donovan Phoon
Location: Singapore
The Challenge
Our acoustic consultants were contracted by the client to construct an audiophile listening room in his Buloh Perindu residence in which he could appreciate the nuances of all his audio equipment. The client desired a neutral listening room that did not distort the sound of the audio equipment. The low ceiling height of the room was not ideal for a construction of a neutral room, and the client's  desire to retain a sufficient amount of sunlight in the room posed additional challenges.
The Analysis
The investigation consisted of a noise criteria assessment and reverberation time test. During our investigation, we found that loud music may still be heard faintly outside the room and low frequencies still pass through the walls. The RT (reverberation time) before the treatment works was more than 2 seconds as there was no acoustically absorbent material in the room.
The Solution
We used special acoustic windows to allow daylight into the room while maintaining sufficient sound isolation. A customised curvilinear ceiling was designed to optimise the ceiling reflections. A combination of Topakustik panels, 2D QRD timber diffusers, bass traps and specially selected acoustic curtains were introduced to tame reflections and provide a lively sound.
We specified a sound isolation rating of STC 62 for the back wall partition. A sound isolation rating of STC 69 was used for the side wall separating the son's bedroom and audiophile room. After sound isolation works were completed, the isolation rating of the back and side walls were tested according to ASTM E336 methods and found to be ASTC 61 and ASTC 62 respectively.
After acoustic treatment, the RT (reverberation time) was tested at 0.33s, a significant decrease post-construction, and was within the ideal range to provide a neutral studio-like listening experience. The client was extremely satisfied with the results, and Soundzipper was engaged to further enhance this project with additional low frequency absorbers.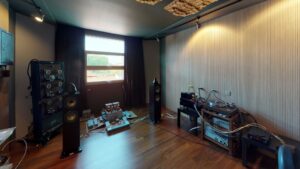 Bonus: Have a 3D VR experience of this space brought you by our brand new Matterport camera!