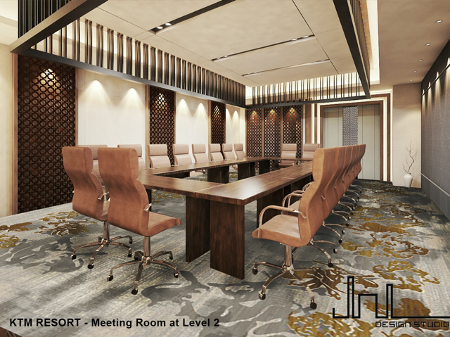 Soundzipper Acoustic Consultants :  Adrian Lo | Johnny Lee
The Challenge
Soundzipper was commissioned by KTM resort to provide acoustic consultation for multiple locations in the resort, including guest rooms, ballroom and meeting rooms. KTM resort is located in Sekupang, Batam. The resort has many amenities like seafront villas, outdoor pool, restaurant and water sports facilities. The client wanted to address complaints of noise pollution between rooms in the resort villas and assess the acoustic situation for the construction of their ballroom and meeting rooms situated in a new building.
The Analysis
The main problems we identified were related to the use of traditional timber-based construction, which left no consideration for airtight sealing of wall, floor and ceiling joints. The adjoining villa rooms shared a common ceiling plenum as well.
The Design
For the guest rooms, we suggested a complete overhaul of the wall, ceiling and floor system before installing damping sheets such as Tecsound acoustic membrane and additional rockwool insulation. Soudal acoustic foam sealant was also suggested for sealing all gaps and penetrations.
The new building housed the ballrooms on the first floor, and meeting rooms were situated on the second floor. The floor slab for the meeting rooms consisted of concrete poured on a steel deck supported underneath by steel I-beams. The assessment found that impact noise easily transmits from the meeting rooms to the ballroom, especially from the balcony breakout area where the floor is furnished with granite tiles. We suggested installing Geniemat RST05, a rubber impact insulation mat, under the granite tiles to reduce the impact noise for the meeting rooms. An acoustic ceiling using Sylomer isolators was proposed for the false ceiling in the ballroom, along with the use of a combination of Topakustik wood cladding and fabric panels.
The client was happy with our examination and recommendations and was eager to expand our project scope to include acoustic consultations on their premium villas.