Soundzipper Acoustic Consultants: Candice Yung
Contractors: Ace Kegan
Architect: Wynk Collaborative
The Challenge
Soundzipper was engaged to provide acoustic consultation for the renovation of a bank branch at a shopping mall in Jurong. The objective of our design is to provide sound isolation and acoustic treatment to achieve a comfortable retail environment. We noted several acoustic issues before renovation, which we considered in our design.
The Analysis
Speech privacy is essential in the Personal Financial Consulting (PFC) rooms and booths. In the previous design, the conversation in one booth can be easily heard by the adjacent booths. The previous meeting rooms weren't acoustically designed either, as sound leaked at the wall to ceiling connection and through the sliding doors. 
Reverberation Time (RT) beyond 1 second can negatively impact speech clarity. This is exacerbated when combined with background noise. 
Another issue is that noise from the human traffic in the mall may intrude into the open area of the branch, thus disturbing customers.
The Design
For sound isolation, acoustically rated full height walls isolate the PFC rooms and the back office. The doors for these rooms are acoustically rated as well.
Speech privacy between PFC booths was improved with acoustically designed dividers. The dividers are of sufficient height to ensure that conversation in one booth would not be heard in the neighbouring booth. The fabric and felt on the dividers minimises sound reflections. Speakers play background music to mask the conversation in one booth and preserve speech privacy within the booth.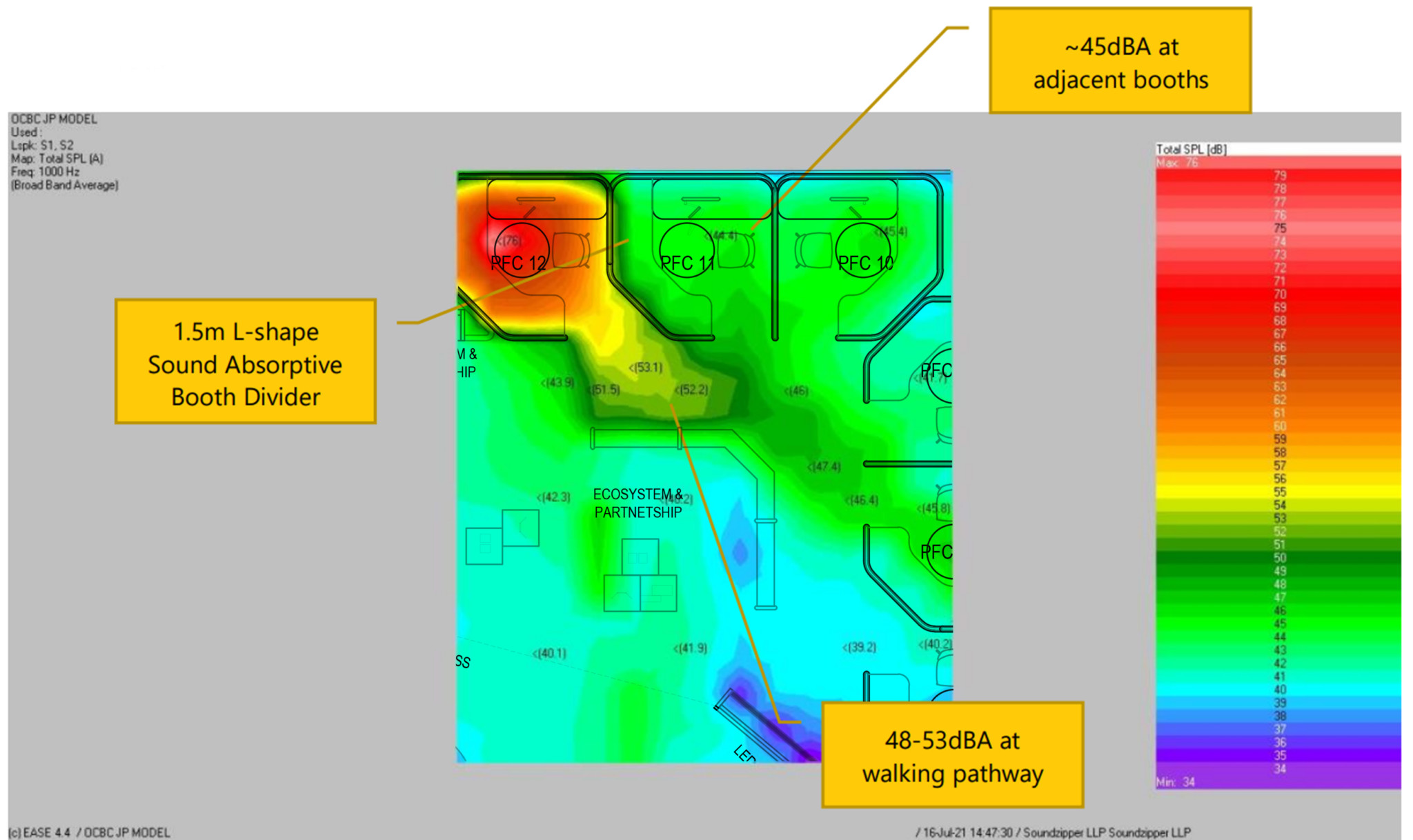 To control RT, there are polyester panels on the ceiling and walls, which absorbs sound. This minimises reflected sound within the open space, resulting in a lower ambient noise and improving speech comfort. 
To limit noise intrusion from outside, the ceiling at the open area is sound absorptive. Background music also helps to mask the noise from the outside and preserve speech privacy.