5 sounds to look out for during National Day
Reading Time: 3 minutes
National Day brings a whole lot of reminiscence for everyone. As Singapore celebrates 52 years of independence, we progress into the country that is built to prosper. What are some of the common sounds we hear that makes National Day what it is?
National Day for many is a time for recollecting thoughts, spending moments with the family and get ready for the National Day Parade shown across various channels. I am confident that we can overcome the challenges and emerge stronger Each one of us, with one another, for Singapore (PM LEE May Day Rally, 2017)
1. Fireworks (Above 140 decibels)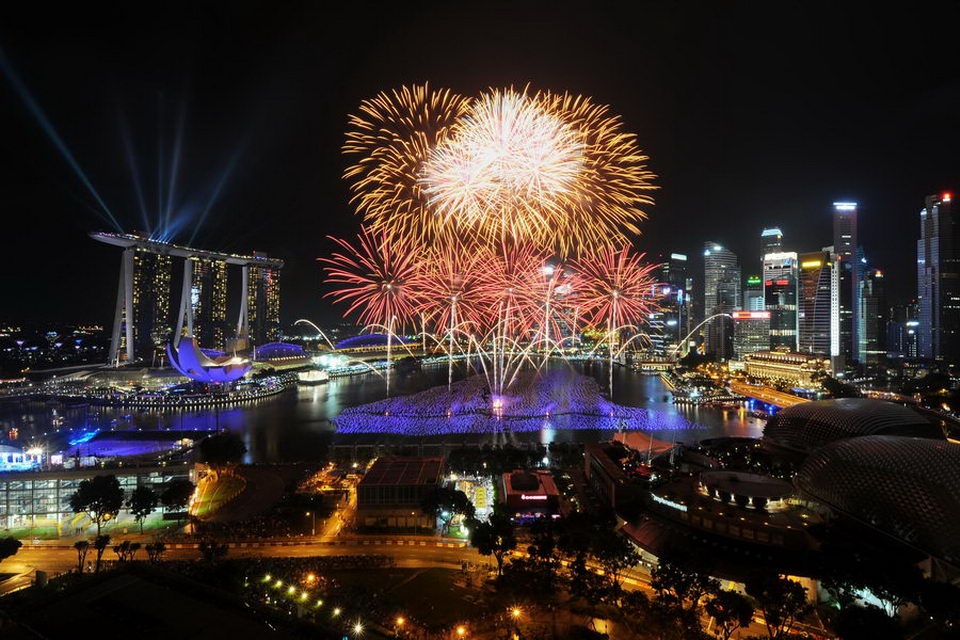 While watching the parade or securing a nice scenic spot to catch the fireworks, the fireworks segment during the national day parade is one of the greatest highlights of it all. Those seated in the Float @Marina Bay, you can feast your eyes at the fireworks display where it comes on around 8 o clock or so. We have to be thankful that we are not very near the fireworks as it roars around 140 decibels. A good pair of earphones is strongly recommended who are within the vicinity.
Want to catch the fireworks? Check out these 28 different places where you and your loved ones can adjourn in case you do not have the ticket.
2.  21 gun salute (130 dB and higher)
This year marks NS50 and many National Service vocations will be heavily involved with the Dynamic Defence display. This combines the air, land and sea showcases from the various units. Another one of these features includes the 21-gun salute is to honour the President of the Republic Of Singapore as four 25 pounder guns on board the Mobility 3rd Generation (MB3) will fire 21 times off Kallang River. A resonant "BOOM" sound will fire off leaving everyone on the edge of their seats! Find out more about the Defence Display and 21 gun salute 
3. F- 15SG sounds (150 dB at taking off)
If you happen to work at the Paya Lebar or Ubi area, you will hear these sounds often and yes even us at Soundzipper, the loud sounds will, fortunately, roar thunderously across the island. On this occasion, however, the significance is slightly different. The bomb-burst manoeuvre will be led by Senior Lieutenant-Colonel Goh Sim Aik who will blast these engines into the Singapore skies showcasing their aerodynamic display. Consequently, if no protection is worn at this level then instant rupture to the eardrum is at large. Find out more about the National Day Parade 2017 (NDP 2017) F-15SG activities.
4. National Anthem and other National Day sounds (*110 dB to 130 dB)
The loudest concert ever played ranged from 117 dB to about 136dB by Rock legends Kiss in 2009. That is of course, with 75,000 screaming fans and a whole lot of rock power to it. Singapore, however, is different.
However, with Onward Singapore, as everyone sings Majulah Singapura. This tune that will resonate with everyone who went through the education system in Singapore. Every year, we will somewhat have the patriotic sense of feeling for this very particular moment. It is going to be more enjoyable than loud. At least, that is for most people. Many Singaporeans would also be singing their hearts out to local favourites such as Home, Stand up for Singapore etc.
What is your favourite song? Just a precaution when listening to the music around
5. Delivery and family gatherings (Decibel level can be controlled here)
It is quite rare in this climate where families can sit down and have a meal together. Some of us including myself will usually stay-in and order some food from various food outlets. Whether it is fast food joints or restaurant apps, home-delivered food and bonding time can go a long way.
A time for family festivities and gatherings from relatives can indeed bring about much laughter and cheers. So as we celebrate National Day, let us all reunite in the spirit of togetherness and belonging with each other.
Conclusion
If you are heading to the parade, we recommend a good pair of earplugs to prevent yourself from going deaf.
If you are still sensitive to sound and cannot rest because of all the fireworks, then drop us a query.
Last but not least! On behalf of the Soundzipper crew, Happy Birthday, Singapore!!
Know any festivals that are loud and want to write about it? Well, email us at [email protected] and you will be on your way!