BAUX: Where Acoustic Panels, Aesthetics and Sustainability Meet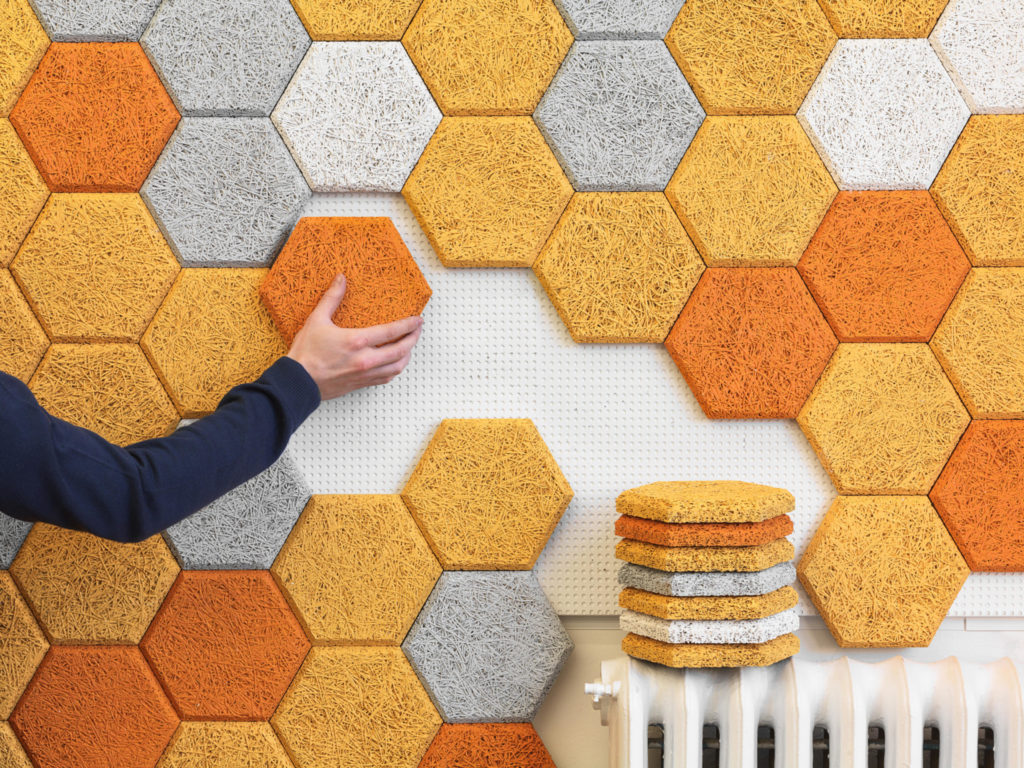 Reading Time: 3 minutes
BAUX is hoping to put an end to the age-old question of aesthetics vs. function. The Swedish company's acoustic panels are visually appealing solutions for public and private spaces that are sustainable to boot.
Does this sound too good to be true? It's not, and the BAUX's rapid growth around the world is proof of that.
What's Old is New
While the idea behind the panels is new, the material used to build them is actually very old, according to BAUX Managing Director and Founding Partner Fredrik Franzon. The company started when designers from the studio Form Us With Love were looking for an acoustic treatment for Stockholm office. The rest is history.
"They looked around on the market and didn't really find anything that attracted them from an aesthetic point of view or sustainable point of view," Franzon says. "They stumbled upon a very old construction material made out of wood wool and cement … no one had ever considered designing something beautiful out of it. They made a hexagon out of it, put it in their office, and architects started to take notice on social media."
As demand for the acoustic panels grew, the designers partnered with entrepreneurs and the business was born. The original hexagon shape expanded to include circles, rectangles, and other shapes. They can be mixed and matched in one of more than 500 pre-designed patterns. Custom acoustic panels design are also available.
BAUX has worked with clients across Europe and the United States. The company recently expanded into Asia with the opening of an office in Singapore.
Challenging the Design Paradigm
The company turned the idea of form vs. function on its head by challenging the premise that the two need to be separate at all.
"One of the founding principles of our company is that building materials should be surprisingly functional and remarkably beautiful. Nothing that says we can't do both," Franzon says. "As a result, this is what we're here to do. We take a material and make something beautiful out of it. This has really been part of our success so far."
Not only are the acoustic panels visually appealing and acoustically sound. They are all natural, fire resistant, and simple to install. The geometric patterns are designed in a way that they can be changed as needed.
Franzon says many of BAUX's customers find them because they are looking for an acoustic solution that's also aesthetically pleasing. He expects demand will increase as people realize the importance of acoustics at home, at work, and in public places.
Sustainable Growth
While the company is growing fast, it has challenges to keep up with the demand from architects around the world. Therefore, this sometimes puts Franzon in the uncomfortable position of having to say no to launch new geographical regions.
As a result, BAUX's biggest challenges will be to grow without compromising.  Emphasis on quality of the customer care and service it delivers.
"We can't serve all markets today. We need to stay focused in everything we do and ensure that our quality does not go down as a result of growing too quickly," Franzon says. "We're quite well established in the U.S. and Europe and just opened offices in Australia and Singapore. Japan, China, and the Middle East are next."
The company's latest innovation is the 3D Pixel, which adds a dimension (literally) to the panels that have become so popular. Franzon says the company has a new product line that will be announced early next year.
The company's acoustic panels are used at some of the world's largest companies, including Google, Facebook, and Amazon. Franzon and the BAUX team take pride in knowing that their work improves the lives of others. Furthermore, this will create a more aesthetically and acoustically pleasing environment.
"Our panels will be present in these places and improve the quality of life and work there for years to come," Franzon says.
"Overall, knowing that we do good globally together with the famous brands is one of the most rewarding parts of my job."
If you would like to know more about acoustic panels or have any questions, you can also leave a query here.
Bonus
Want to share your stories about sound and want to publish your post online? Now you can! All you need to do is to write to us at [email protected]