Acoustic Panels: Guide for Architects and Interior Designers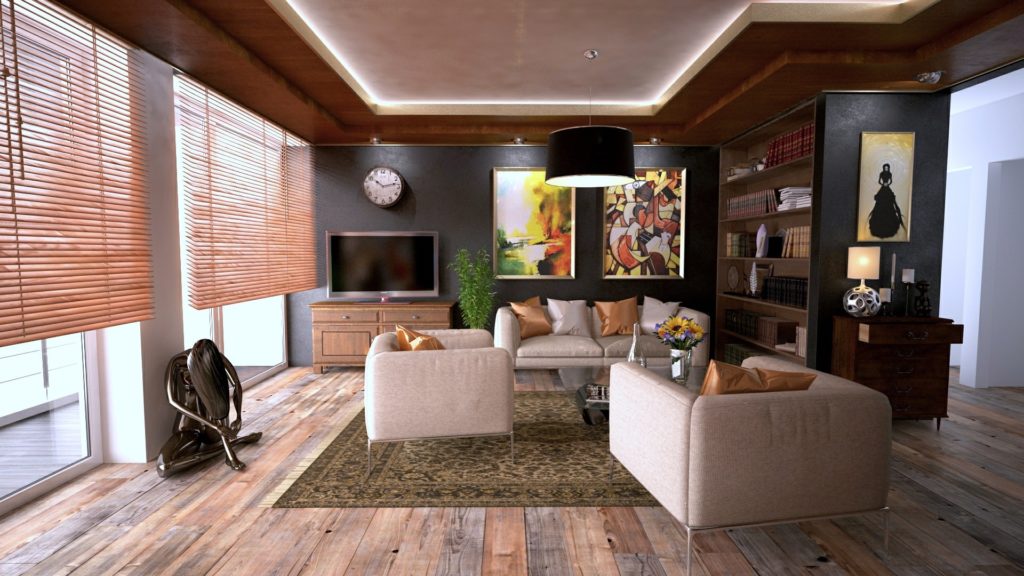 Reading Time: 6 minutes
Most architects and interior designers love the bespoke rooms and have an eye for detail when it comes to visual design. However, they can get clueless when a client requests for acoustic specifications in their projects be it commercial or residential. Soundzipper breaks down a comprehensive list for you.
Acoustic Panels are products which can be used to control the sound quality of different spaces. They may be classified into three categories based on their absorption and diffusion properties. To understand these categories, it is necessary to understand the basic differences between absorption and diffusion.

Sound energy striking a surface may either be transmitted, absorbed, or reflected; the amount of either of these depends on the acoustic property of the surface. Absorbers are used to reduce the noise levels in a room by absorbing the sound energy. Figure 1 shows what happens when sound energy strikes an absorptive surface and a diffuser.
Diffusers are used in spaces to make the room sound lively without creating echoes. Diffusers do not absorb the sound energy but instead disperse the sound uniformly within the space without removing sound energy. An example of a use of diffusers is in concert halls where there is a requirement for the uniform reverberant field. In many cases, absorbers and diffusers are used in a room together for optimum results. Absorption may be used in locations where early reflections occur—to minimize interference with the direct sound.  Diffusers make the room lively by providing reflections to produce a uniform diffuse field.
Some of the main features which need consideration while choosing an acoustic panel for your design are: category (absorber or diffuser), finish of the product, cost, durability and, most importantly, the NRC. NRC refers to Noise Reduction Coefficient—an average rating of how much sound is absorbed by the product. NRC ratings range from 0 to 1, 0 being zero absorption (or full reflection) and 1 being full absorption. A list of acoustic panels and their descriptions are given below. These maybe combined and used according to the requirements of the space to be treated.
1. Acoustic Plaster systems
These are plasters with sound absorbing properties . They are used when there is a need for customization like curved walls or ceilings, and also when no additional suspended ceilings are possible.  Acoustic plasters allow a seamless and homogenous application; it's particularly suited for spaces where there is a constraint for room height. These are usually available in a standard white shade, but can be tinted or painted over to suit the requirements. The plaster may be applied to the surface using a trowel or can even be sprayed depending on the exact product to be used.  
2. Plasterboard Acoustic Panels
These are acoustic panels made of plasterboard. To enhance the acoustic properties of the panel, full depth round perforations are made to the panel. These are typically used in high traffic area ceilings, library ceilings, theater and auditorium upper walls and ceilings.  These are usually 13 mm thick; the panels usually come in sizes of 3.6 m to 6.0 m and a standard width of 1.2 m.
Knauf Danoline has designed seamless plasterboard panels which provide continuous random perforations in a seamless ceiling—giving a monolithic ceiling appearance. It usually comes in  a standard white shade and is a fully recyclable, non-combustible material.
3. Metal Acoustic Panels (Perforated Panel)
Acoustic metal panels are made of perforated metal skins encapsulated in acoustical sound absorbers. This combination of metal and absorptive material is particularly useful in locations where durability and aesthetics are needed along with maximum noise absorption. Acoustic metal panels are commonly used in gymnasiums, industrial fabrication areas, airports, concert halls, HVAC noises etc.
4. Micro-Perforated Acoustical Ceiling & Wall Panels
These are panels perforated with 0.5 mm micro-holes only perceptible at short eye distance (+/- 250 000 holes/m²) and laminated on a 16 mm thick MDF substrate already perforated. The aesthetic of wood is preserved while offering high acoustic absorption performances.
5. Wood wool Acoustic Panels
BAUX acoustic panels are environment-friendly, recyclable materials made from wood wool, cement and water. Together, its natural components provide many functional characteristics. They are available in 5 patterns; Quilted, Check, Stripes, Lines and Diagonal—all designed for infinite combinations.
| | |
| --- | --- |
| Application | Ceilings, walls, (wet areas such as swimming pool ceilings) |
| Features | Recyclable, Customizable design from the 5 available patterns. |
| NRC rating | 0.5 – 0.8 |
| Cost | TBC |
| Category | Absorber |
| URL | https://www.baux.se/acoustic-wood-wool-products/ |
6. Aluminum Composite Acoustic Panels
These are sandwich panels made from an aluminium mesh outer surface, acoustic fleece mat and a 25 mm aluminium honeycomb backing. The mesh appearance and the panel can be customized to adapt to the specific needs of projects. They come in sizes up to 4 m long and 1.25 m wide—giving ceilings a monolithic impression.
7. Polyester Acoustic Panels
Polyester acoustic panels are made made from 100% polyester (60% recycled fibre). It is completely recyclable—making it an environment friendly alternative to traditional embossed fabric acoustic panels.
| | |
| --- | --- |
| Application | Hanging Partitions, ceilings, wall paneling |
| Features | Environment-friendly, odor and dust free, no chemical irritants |
| NRC rating | 0.40 (minimum) |
| Cost | TBC |
| Category | Absorbers |
| URL | http://www.autexindustries.com/acoustics |
8. Fabric Acoustic Panels
These are panels wrapped in fabric and are used for sound absorption in indoor spaces; they are typically good for spaces where speech intelligibility is important. These are available in different shades and textures of fabrics.
9. Stretched Ceiling Acoustic Panels
Stretched ceilings contain two basic components: a perimeter track and lightweight fabric membrane which is stretched and clipped into the track. The stretched material is made from a 0.2 mm thick PVC based recyclable stretch membrane.
These are available in satin, matte, and high gloss finishes. These are washable, waterproof, and can be custom printed as desired.
| | |
| --- | --- |
| Application | Seamless ceiling applications |
| Features | Washable, recyclable, waterproof |
| NRC rating | From 0.2 to 0.9 |
| Cost | TBC |
| Category | Absorber |
| URL | http://barrisol.com/us |
10. Timber Acoustic Panels
These are grooved panels made of timber which are available in varied finishing options including laminates and veneers. There are also different groove widths available, providing different acoustic performances.
11. Printed Acoustic Panels
These panels come with printed designs. Many companies offer panels which can be customized to suit the theme of the space of installation. They come in depths of 0.8 m – 1.2 m.  
| | |
| --- | --- |
| Application | Walls. For residential or commercial (office, meeting rooms, etc). |
| Features | Customizable, Eco Friendly |
| NRC rating | From 0.6 to 0.9 |
| Cost | TBC |
| Category | Absorber |
| URL | https://akuart.com/ |
12. Plastic Acoustic Panels
These are made of acrylic with a thickness of 4mm – 10m. They can be used in a variety of spaces like offices, classrooms, lobbies, auditoriums etc. They are completely free of glass fibres, and the visual appearances can be customized to blend in with the design theme of the space. They can also be printed on or transparent with either a polished or matte surface finish.  Customized panel sizes are available with a maximum size of 2000 x 3000 mm.
| | |
| --- | --- |
| Application | offices, classrooms, lobbies, auditoriums |
| Features | Recyclable, colored, transparent or translucent |
| NRC rating | 0.45 – 0.55 |
| Cost | TBC |
| Category | Absorber |
| URL | http://www.deamp.com/plastic-panels/ |
13. Acoustic Furniture
Acoustic furnitures are designed with the aim of providing privacy and comfort, mostly in open plan offices. These include high backed chairs and sofas, acoustic meeting pods for small social meetings or one-on-one talks, acoustic lamp shades etc. These are specifically designed to absorb the noises created within these spaces without affecting the overall sound levels in the office space. Companies like Buzzispace and MTM offer exclusive ranges of acoustic furniture.
14.  Acoustic Moss Panels
These are made from Reindeer moss which is hydroscopic. It has no roots and absorbs moisture and nutrients through the air. It also filters out air toxins and requires no maintenance. Acoustic moss panels are very effective at sound absorption, especially in the range  of the human voice.
15. Acoustic Sheers
Acoustic absorbent sheers use a yarn and weave technology which contributes to sound reduction in a space. These can be used in place of normal sheers; they provide 40% sound reduction when hung flat and 50-60% sound reduction when draped—which is over 10 times a regular sheer.
16. Paper Acoustic Panels
These are modular panels made with PaperForms and can be installed as a temporary solution with double-sided tape or as a permanent solution with the help of mastic adhesive. They may be used in residences, board rooms, waiting spaces and events. These are made from recycled paper and are completely environment friendly.
Conclusion
If you think we missed out any acoustic panels, let us know and we will extend the comprehensive range of acoustic materials. Drop us an enquiry if you should require any acoustic services
Disclaimer
All images and representations are from the suppliers or related projects somewhat used in the course of Soundzipper's past projects in one way or another.