Epp Jääger: Interior Design landscape Architecture and Sound
Reading Time: 3 minutes
The process of creating an architectural landscape of a designer he or she interacts directly in the transitional areas of a landscape site.
Designing and planning buildings, entertainment landscape whether indoor or outdoor, the completion of a project, defining its character and the end result creating a place of personal comfort and enrichment for the occupants
Some of the best things that come in life are through the method of collaboration. This is where Weijenberg comes in. If Epp Jääger does her job correctly, you won't even notice the sound quality when you are in a space that she's designed.
As a lead designer at Weijenberg, Epp strives to focus just as much how space sounds as she does on how it looks. That belief carries through her work at Weijenberg, and in the company's philosophy as a whole.
"I want to always create an environment where people can talk, listen and concentrate," Epp says. "Spaces that do not work well … you can't speak, you can't hear. It is distracting. Good architecture must be functional as well as aesthetic and improve the environment for the user."
Based in Singapore, Weijenberg is led by Dutch architect Camiel Weijenberg. The company represents a team of architects, designers and researchers who specialise in the application of urban design through cultural and contextual analysis.
Becoming an architect
Epp earned a master's degree in architecture in Sweden and eventually followed her husband to Singapore. There, she found a world of architectural opportunity that she found to be much more exciting than what she'd seen in Europe.
"It's like the U.S. was 100 years ago with a growing economy, new buildings, and new cities," she says.
Epp recalls one of her favourite projects was a school for hearing impaired children in Norway. She faced the special challenge of ensuring that the acoustic served both the students and their normal hearing teachers. Unfortunately, she moved to Singapore before the project was fully completed.
Like many professions, some of the biggest challenges Epp faces are related to budgets or lack thereof. In a perfect world, she would be able to design the perfect acoustic solution for each client. However, that is rarely if ever the case in reality.
However, at Weijenberg, Epp has had the opportunity to express her skills in projects such as:
Restaurant CURE, Singapore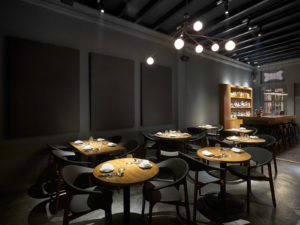 Various details found on the walls and on the tables link CURE back to its Chinatown heritage. With that, special attention has been taken to fuse design with functionality and with lighting and acoustics that offset the bustling street landscape.
Restaurant DA PAULO, Singapore
An old shop house turned into a restaurant. A special booth seating area is sound isolated and provides the perfect setting for intimate meetings and conversations. Acoustic panels on the ceiling allow for pleasant conversations in the dining area.
RAW, Taipei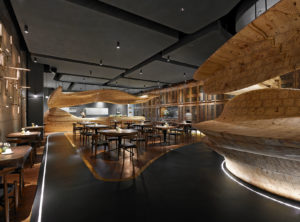 Diners step into the eatery across a wooden path entering a tranquil lounge area. This journey is designed to transition diners into the restaurant from bustling streets of Taipei.
A soft angled, organically sculptured wooden structure greets guests and merges to form the centrepiece in the dining area. A special acoustic ceiling reduces the noise from speakers and clatter from furniture.
Looking forward
Over the years, Epp has learned to make the most of her resources and do the best work she can for her clients. She starts with the highest quality materials and works down from there depending on the client's budget.
That work ethic fits nicely with Weijenberg's aesthetic of "Crafting the Traditional. This ideology fuses cutting edge technology with native and traditional materials, sustainable architecture and eco-design.
Looking forward, Epp would like to take on more responsibility and eventually move into project leadership. She also plans to continue working in the area of acoustic design and hopes to collaborate with Soundzipper and other sound engineering firms.
And, of course, the thrill of seeing one of her designs come to life will never get old.
"Architects need to work together with sound engineers to find best solutions for different landscape environments," Epp says. "It's always rewarding to see something you have designed on the computer become a real building or a real space that people can appreciate and enjoy."
Interested in similar articles click here acoustics issues, sounds of Japanese gardens and project children's home.
Do you know anyone who has made a difference in the world of architecture? Why not share them? All you need to do is to email us at [email protected]