Soundzipper Partners with Architect for a Unique Home Theater Project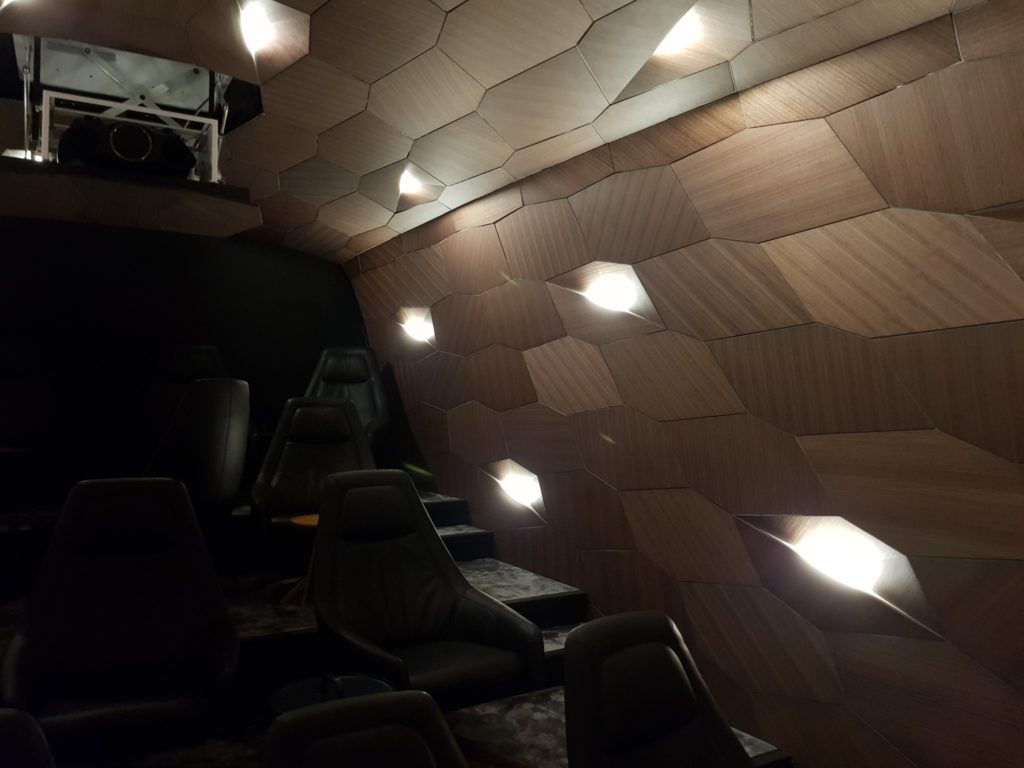 Reading Time: 2 minutes
"The owner wanted the seats to rumble when the bass kicked in."
When a client is paying for a high-end home theater system, you find a way to give them what they want. That's exactly what Soundzipper's Julian Martinez did when contacted by architect Yi Cheng Pan for help with a home theater he was working on for one of his clients.
Julian came into the project after the design had been finalised and construction was already underway. His challenge was to find a way to work within the existing framework to meet the client's needs in an acoustically-pleasing way.
The concept
The 16-seat home theater space is shaped like a cave, which Pan capitalised in his design. This particularly makes for an aesthetically interesting space. However, it presents some acoustic challenges for a theater–where the sound is crucial to the viewing experience.
"The theatre is at the basement level, which is dug out of the ground. The client wanted a structure that envelopes the entire theater room like a cave. " Pan said. "I needed help determining where the speakers would be placed in order to provide a good audio experience for people sitting in the theater."
According to Julian, this type of constraint is not new. Whenever Soundzipper works with an architect, the design is finalized beforehand. This leaves him with the job of figuring out how to make the acoustics work accordingly.
"The shape was fixed, which was cool because we had to stay within Pan's design," Julian stated. "We had not come across a project with such unique geometry. We really wanted to keep the design as intact as possible."
Because the space is still under construction, the option of manually testing out different acoustic solutions in it was not possible. So instead, a 3D computer model of the room was built to efficiently create plans.
It was Julian's first time working this way, but nonetheless it was successful and, in the end, only minor corrections were needed when the solution was implemented on site.
So, what was the solution to such a complex acoustic space? Microperforated panels–lots of them. This involves mounting hexagon-shaped panels on the room's walls as well as adding metal panels next to the screen to simulate the resonance when the bass kicks.
"We wanted to get a very flat response from the room," Julian said. "When people are listening to the movie, they'll hear how it is portrayed for cinema."
Lessons learnt from the project
The entire project has been more than a year in the making and construction finished in early 2018. Julian said the project has definitely taught valuables lessons and insights for the future.
"Working on this project has been really fruitful because we can think of this design as multiple scales and think through other applications. This structure could be used at a show or exhibition, could be a standalone structure." Pan said. "It set a working relationship with our partners that can be used in other applications."
If you would like to rock your world and only want a custom made decision for your room, we are waiting for you. Talk to us today!